Five Screenwriting Lessons I Picked up from (Sorta) Hanging Out With Vince Gilligan.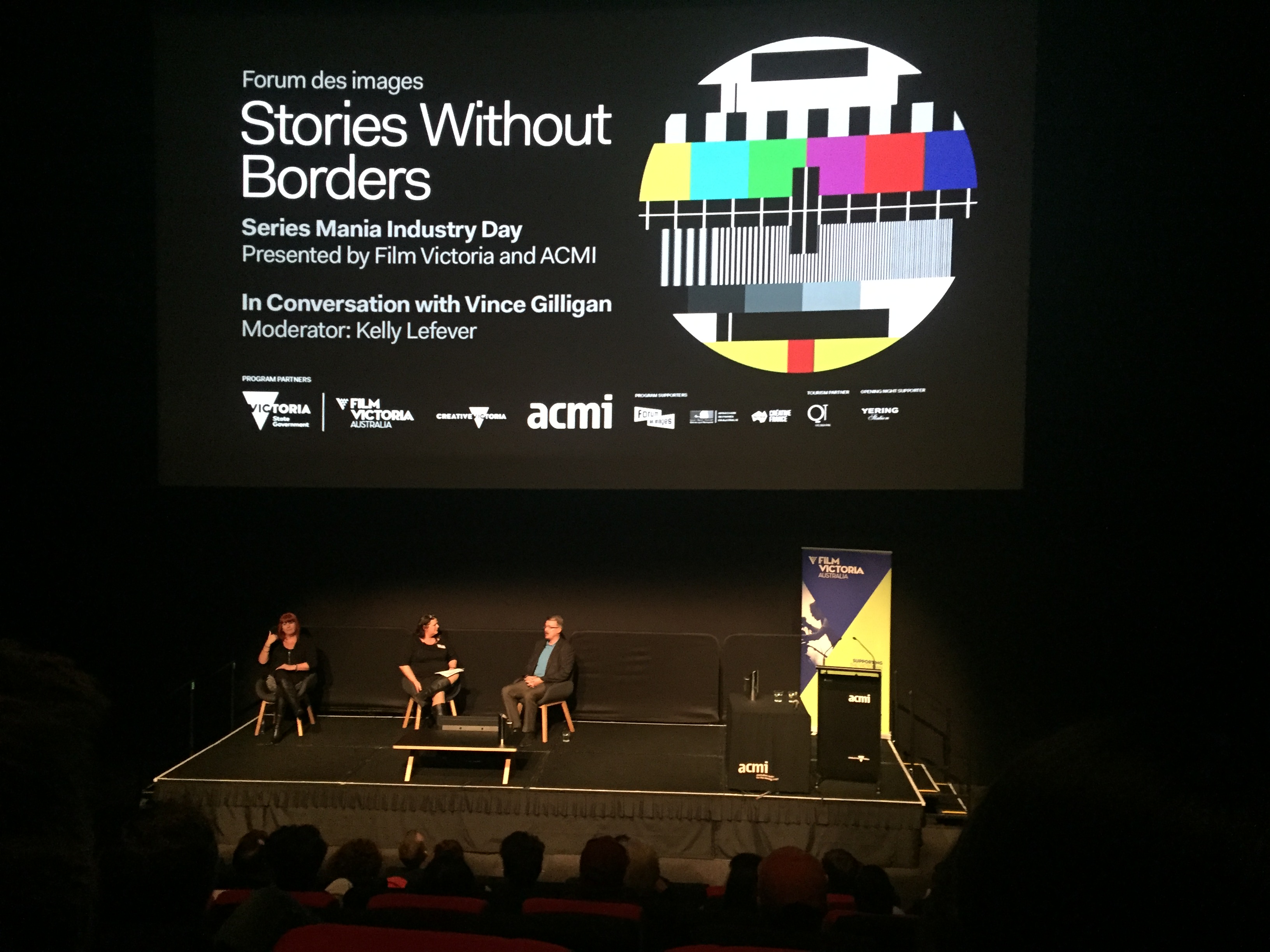 On Monday I had the rare privilege of picking up some screenwriting lessons from Vince Gilligan live at the ACMI's inaugural Series Mania event. Gilligan, of Breaking Bad & Better Call Saul fame had come to share some industry insights from his career, and needless to say, people were excited to hear from him.
It was wonderful to get a sense of Vince's screenwriting ethos, and also the humble spirit that drives him. After hearing Vince speak, I doubt there was any writer in the room who wouldn't auction their good teeth to work with the man (though most would've beforehand, I'm sure). Here are five key things I picked up from Vince's talk:
1. The Better Call Saul team take a long time getting their episodes structured before they write them.
Three to five weeks, in fact. Vince pointed out that their team of eight writers (including a note-taking assistant) spend a long time getting into the detail of an episode. They focus on setting the 'spine' of an episode up solidly to allow the story room to breathe. They'll also get into the detail of what's happening, because their ethos is to be faithful in telling a story through a visual medium.
2. Less dialogue is more.
The exquisite visual work on Better Call Saul and Breaking Bad is evident to anyone who watches them – but Vince was at pains to point out how much dialogue is regularly cut from the shows in favour of this visual element. He believes that if you can get a message across with just a look, that's better then screeds of words on screen. This approach pays off, like in this scene where Mike tries to find out if his car has been bugged in the latest season of Better Call Saul. Three full minutes of screen time passes without a word being spoken. All we know is that Mike is desperate to figure something out. And it pulls us along, right to the very last second. Brilliant.
3. Wants, fears, and goals: the mantra of the writing team. 
The Better Call Saul team's oft-repeated questions during writing sessions is:
What does the character want right now?
What are they afraid of?
What's between them and their goal?
This isn't groundbreaking, but it was reassuring to hear that simple storytelling is still excellent storytelling. By staying in tune with where your character's headspace is at, you can ensure that the narrative stays tight. Looking back over the Breaking Bad series, you can see how well the motivations of characters are defined and then exploited as they rub up against one another. It's a recipe for success, but as with any recipe, keeping things simple is sometimes deceptively hard.
4. Vince advocates a broad approach to writing in TV.
It was refreshing to hear that Vince encourages writers to get to know the production inside out, in order to better hone their craft. Even though he's away of showrunners' traditional reluctance to let writers into the editing suite, he encourages writers to get in there in order to understand the rhythm and process of whittling down a narrative. This stems from his early days working on the X-Files where he attended auditions, stayed on set, and got to know the breadth of the project. He believes knowing the work that goes in elsewhere helps writers to grow as they learn.
5. Trust the story.
Vince said the best feedback he ever received was after he directed the pilot of Breaking Bad. He slathered the episode with wall-to-wall music, never leaving gaps for silence. A new studio exec who'd just come from a film studio queried why he did this, and Vince (who admitted he was being a jerk at the time), said "That's just how everyone does it in TV." This drew the response from the exec: "Why do you want to be like everyone else? It's as though you don't trust your story." Vince heard that, realised his error, and adjusted the episode accordingly.
And I think that's a great point to end on. You need to trust your story, no matter the medium you're writing in. Vince Gilligan's dialogue and stories leap off the screen at you, and that's down to a deep understanding of the craft of storytelling. Vince has learnt to trust his staff, his story, and his gut over the years, and it pays off hugely in the way each storyline grips you.
I'm glad I went to hear Vince speak. He was articulate, wise, and level-headed, even when a list of his awards was put to him. He's inspired me to keep reaching for the best in my stories, and trusting what I have on the paper once I've done the work. I'll leave this post with one final story which I loved.
5.1 "Stick with meth!"
Vince was asked whether there was truth in the story of one studio turning down Breaking Bad because of its content. He said that was true. He said the pitch meeting was the best he'd been to; enthusiastic responses, wide-eyed studio reps, and a great vibe. It got to the end, and the conversation went something like this:
Studio rep: "Wow, we love it. I hate to do this, but I have to ask… could Walter be counterfeiting money instead of cooking meth?"
Vince: *Smiling* "Sorry, no."
Studio rep: "That's alright, we had to ask. Stick with meth! We just can't sign you on because we'd get fired if we did."
I think we're all glad that Vince Gilligan decided to stick with meth.
Also, may I submit this grainy image as proof that I was really there: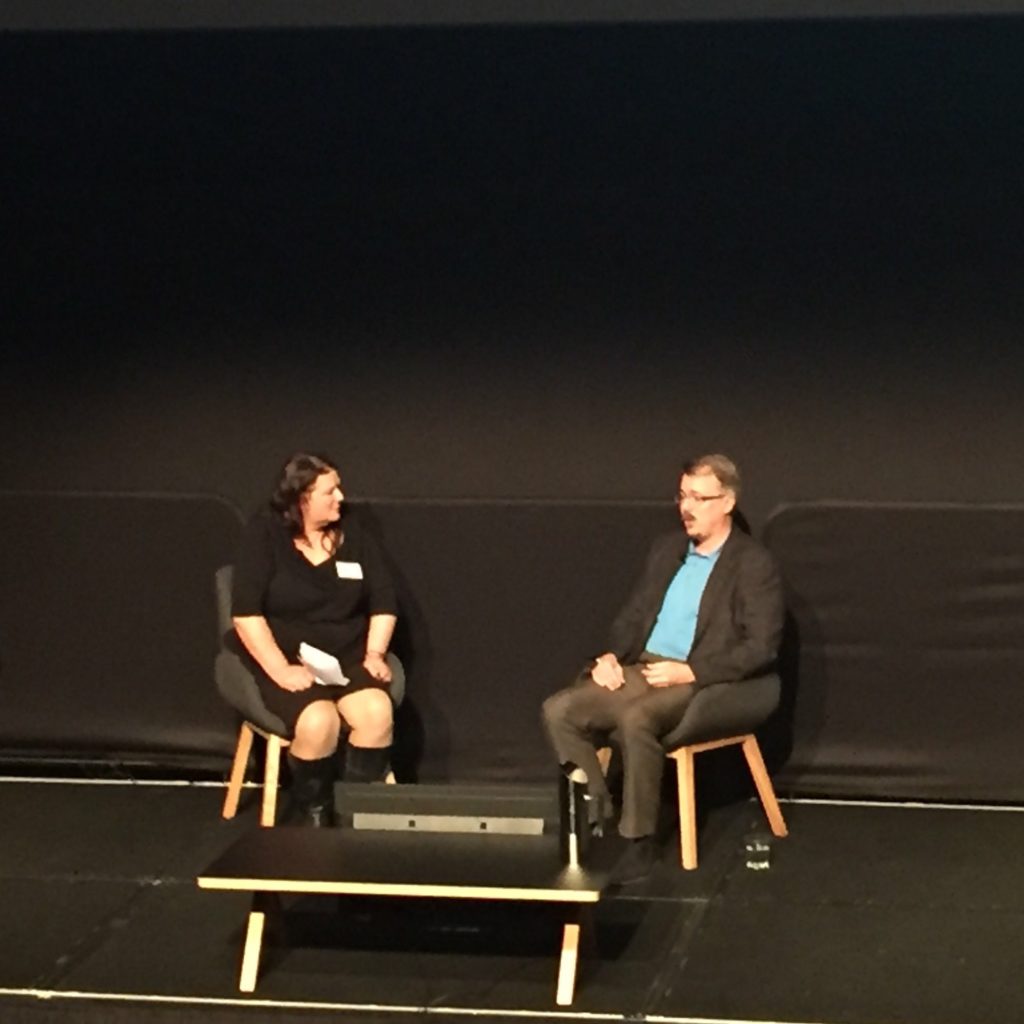 Related