Pun Network News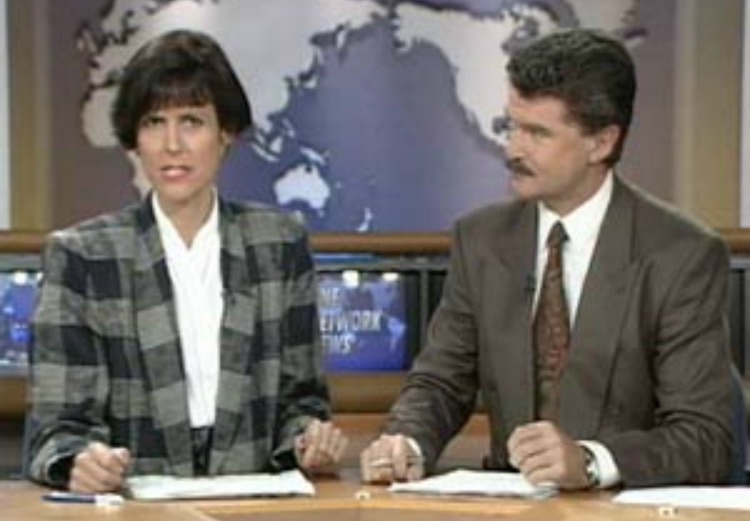 Years ago, before I started writing fiction, I wrote a series of regular articles with a buddy of mine at the University of Canterbury. They were called 'Pun Network News' (Yes, that's a pun), and luckily (unluckily?) for all of us, I kept them.
So, without further ado, I present (mostly unedited): Two articles from Pun Network News.
---
March 2008:
Pun Network News Presents:
March: A month in review
By Admiring Woo and The Punsmith
Good evening ladies and gentlemen, and a fine Mahok to you all. We here at PunWaterhouseCoopers have spent the month of March trying to keep other news agencies to account for their news. When stories don't quite add up, we're determined to be number one in sharing our point of view. This may seem divisive, but to take away from the sum total of news we present each month would be criminal, and we are constantly aiming to maintain a good balance in our reporting. This month has nearly bean written off by many reporting agencies, but events have moved quickly. We now bring you up to speed on all the developments in New Zealand and around the world at large.
In economics: The international credit crunch continued to bite, chewing through share prices. Many investors found this hard to swallow, and while the market appears to be quietly digesting the international mood, rumblings of disquiet were rolling through the market constantly. Hopefully the coming month will be easier to stomach. There continues to be talk of tax cuts, which would eat away at the government's surplus; perhaps National have bitten off more than they can chew.
In politics: A free trade deal was being finalised with China, which was fantastic for all lovers of restrictions on human freedoms and merciless crushing of uprisings by oppressed individuals.  John Key's popularity stayed high, allowing him to continue his poll dance, with some speculating that he was acting on a cheek-to-cheek connection with Rodney Hyde.  This was music to big business's ears, and it seems Helen Clark took note.  Michael "Tighter than Mr T's clenched fist" Cullen continued to refuse large tax cuts, and National kept promoting theirs, which they think are a big deal. Voters will continue sizing up these issues, and it is likely massive attacks will continue on the government in the lead-up to the election. Thanks to oxymoronic quick police thinking earlier this year, these attacks probably won't be led by Tama Iti. On that theme of arrests, tyranny, and facial tattoos, we move on to more international headlines.
In overseas events: Zimbabwe's elections took place in the final days of March, with hopes high that rigging does not leave the country's government all at sea.  Independent observers, while harbouring some doubts, gave the elections a vote of confidence and said it appeared mostly water tight and ship-shape.  The public took a stern view, declaring their votes were not for sale, which seemed to anchor the observers' confidence, and even caused them to consider waiving their normal observance fee.  However, Mugabe shows no signs of bowing out, with his spirits far from dampened despite the country not going too swimmingly and the economy not exactly booming.  Meanwhile, the plight of Tibet has bobbed above the surface again, with some jibes about the China Olympics inflaming passions. With China clearly not stoked, the burning question is will athletes be fired up enough to protest at the Olympic Games? Mark Todd says yes – try qualifying first, Todd – if that is your real name.
In Sports: Mark Todd's dumb comments got him headlines as he attempts to revive his flagging equestrian career. Some observers felt he was flogging a dead horse, considering he probably won't be the mane attraction – Todd replied with a firm "neigh". The New Zealand sevens team continued a perfect run this year with victory in the Hong Kong Sevens. Gordon Tietjens was heard to comment that the run was always afoot, and the team was going to continue stepping up. With such good results so far, the shoe is definitely on the other foot from last season, when the tournament was anything but a walk in the park. The win showed lots of soul, and New Zealand seems determined to give all opponents the boot this year, or at least to give it a good try.
The Black Caps continued to snatch defeat from the jaws of victory, losing the three-test series to England 2-1. Tim Southee showed good direction with a five-for and a quick-fire 77 in the final test. This points to good things in the future, as did Ross Taylor's century and high series average. Taylor hopes he has a berth to England all sewn up for May, and had everyone in stitches when he cracked wise about getting motivation from his low average. His pin-point accuracy with drives covered over recently patchy form, and he seems to have the right material for a strong career at the top level. Netball continued to be interesting for people who enjoy watching sports with bibs and initials, while Scott Dixon won a championship race by driving really fast. This impressed his mother and the three people in Taranaki who stayed up late watching a car race no one really cares about around here.
In campus events: Students staged quite a scene about the projected motion to reel in Theatre and Film Studies.  A forum helped students get the picture, and there was talk of direct action, as students cast their lot against the proposed cuts.  Our correspondent, Oscar, captured the drama, saying, "Students decided it was time to act, as Roy Sharp's performance has been less than satisfactory.  We really need to screen the next vice-chancellor better". Students found the survey on banning smoking a bit of a drag, and it was the butt of a few jokes. Filtering through the responses, students considered turning over a new leaf, but had more of a stake in the barbeque, which managed to meat all expectations, especially if smoking is going to get the chop.  Security may need to be beefed up or people will end up on the lamb, making the university look quite sheepish.
In local news: Some switched-on bright spark suggested Earth Hour, whereby a whole lot of ecstatic people were able to pat themselves on the back for doing what they should have been doing anyway.  Some were left in the dark, asking "Wire we putting all this energy into saving 12% of Christchurch's power for 0.0114% of the year?", but power companies used the opportunity to plug their commitment to the cause amid the current surge in concern for the environment.  Shockingly, we received a wire that electricity use nationwide was actually higher than a normal Saturday night.  Apparently many people on the circuit refused to participate, and preferred to pile on the appliances.  "That was the worst failed experiment since Ben Franklin's times", our correspondent Watts chipped in.
In Weather: We now cross live to Sonny McCleod for some sappy thoughts about autumn weather.
Sonny: Foliage is leaving faster than a student who realises they can't do American Studies anymore.  I've been keeping a log and, call me barking but the root of the problem seems to be the falling temperature.  I wooden have thought it, but I'm stumped.  I guess we'll need to branch out to warmer clothes, or move to warmer climbs.
Thanks, Sonny. That's all the latest stories for March folks, from all of us here at Pun Network News, good day, and do us all a favour and for heaven's sake wear deodorant next month. You know who you are.
---
May 2008:
Pun Network News presents:
May: A month with a view
By Admiring Smith and the Woo Pun Clan. Buuuuuurn.
Good morning ladies and Gentlemen, and let me assure you it was like that when we found it. We here at Pun Network News and Growers Ltd have been stocking up on news stories from May, freshly grown in New Zealand and overseas, topped with delicious plays on words and bittersweet parody/satire. It might sound like a recipe for disaster, but we won't be pipped at the post for the best stories, and that's pretty sweet.
In world news, tragedies abounded this month as earthquakes hit both China and the republic formerly known as Burma. Local officials in Burma played down the effect of the natural disaster, explaining the events as merely an attempt to shake things up.  Meanwhile, as if things hadn't been shaken up enough behind the Bamboo Curtain, the Tibetan leg of the Olympic Torch relay was cut short, much to the disgust of top surgeons. Some commentators accused China of trying to toe the line and heel internal conflict with a limp approach which just won't foot it. The Chinese appear to not have a leg to stand on, and to make this relay popular again would take a great feet of PR.
South Africa experienced race riots as crowds attacked foreigners in several locations. What began as locals horsing around and jockeying for position soon left international visitors saddled with a fair bit of jostling. Our correspondent, Phar Lapp, asked the local police chief if the aggression was under control. "Nay, in the main, it's a real mare", he responded. The violence has been reined in somewhat, but the situation is still far from stable.  It looks like the rainbow nation will just have to ride it out, spurred on by hope in a brighter future for all races. This is a sorry tail of the likes never before seen here in the Canter.
In national news, a paua-poaching ring is floundering since being busted wide open by the pauas that be.  Police had been noticing some fishy activity for some time, and following the school of thought that if they planted a red herring the criminals would pike and dolphinately take the bait, they netted the criminals and took them to caught.  Our correspondents Rod McGill, Finn McSalty, John Dory and Fishy McFisherson remarked flippantly "Holy mackerel!  The operation went reel swimmingly from start to finish, with a wave of police raids sealing the deal, by hoki."  Rumours on the net that the sole ringleader had a mullet and was dealing sea weed on the fly have since been watered down.
Meanwhile, the court system helped our country move a step closer to legalised infanticide as no one was convicted of the murder of the Kahui twins. With the verdict courting controversy, the media has hammered the twin's mother, letting the public be the judge. With these new standards of justice being practiced, now appears to be the opportune moment to commit any crimes you have been putting off, as the legal system appears sleepy, drunk, or stupid right now.
Speaking of getting away with murder, in politics, the election year and Labour's poor polling has predictably led to tax cuts in the recent budget.  Our correspondent B. Hive McGovern was cynical about the timing of the move, rating it as the biggest bribe since the branding of the USCA's café facilities with mysteriously familiar swishes, ceilings, and door handles.  These have been taxing times for the government, with suspicion that Phil Goff plans to make a bid for the leadership.  Helen Clark reportedly told him he was a "naughty boy"; Goff was unavailable for comment, but his mother said he can come out tomorrow provided he wears a skivvy. Smooth move, Goffmeister. Meanwhile, many are saying nine years in Labour is long enough, and predicting the birth of John Key as our new Caesarean figurehead of oppression.
Speaking of capito-fascist corporate slaves, Roy Sharp has resisted calls to commit hari-kari but has severed his ties with the university instead.  To put it bluntly, Sharp's latest course axing is definitely his finest.  In other campus events, students continued to dress generically with the constant appearance of puffa jackets, skinny jeans and Converse shoes, leaving fashion correspondent Attila the Pun to conclude that we are experiencing the most blatant plagiarism since Snow Patrol's "You're All That I Have" ripped off Lou Barlow's lesser-known yet melodically superior song "Home".
In sports, the Crusaders managed to win the semi-final of the Super 14, but not even the 16000 fans who turned up cared. When we attempted to tackle the issue most punters appeared bored and side-stepped our post-match questions. The teams appeared to have a ball as they tried to impress the crowd. By the time this goes to print the competition will be over though, and even less people will care.
Meanwhile the Black Caps were beaten in the final test against England.  Coach John Bracewell hopes to whip them into shape to try and shake the scourge of losing; an improvement should be a hit with fans after their recent whack performances.  The team has been left licking their wounds, especially strike bowler Ian O'Brien after the English talked smack about his mother. Jesse Ryder is unavailable for the one-day series, and in a snap poll taken earlier, we asked 1000 women if they would sleep with Shane Warne. A shocking 80% said 'Never again.'
The French Open began at Roland Garros towards the end of the month. Tennis, long courting the love of the public, has served up few surprises lately, with officials hoping to juice it up a bit.  Our correspondent Ace Tennyson doubts whether they would have the balls, and predicts their backhanded tactics will probably amount to a pointless racket.  However, they're rallying for support and net profits are set to reach lofty heights.
That's about all the news we felt was worth mentioning. Special shout out to Scott Dixon for not tyreing himself out while braking records to win the Indy 500. Those were our people today, that's Holmes tonight. What the hell?