Three reasons why you should connect with your local writing community.
Before you read any further, I want to be clear: no one paid me to write this! It's simply a reflection on the past year in my writing life.
You see, my Writers Victoria membership has just come up for renewal. When I first joined it was because I was submitting my manuscript for assessment. I didn't know what I was getting myself into, but as it turns out, connecting with my local writing community is one of the best things I've done as a writer. So here are three reasons why you should get involved with your local writing community.
1. No Writer is an Island: It takes a community to get a book published. You certainly can do everything by yourself – from drafting to editing, cover design to marketing, but why would you? By networking with writers through your local writing society or writing group, you can access quality editors, publishers, and mentors. Not only that, but you can get to know what's coming up in a community that's bigger than any one author
2. You get access to opportunities: Whether it's a course on publishing, or a session on writing for a specific audience, there are many opportunities that are available to you once you choose to be part of a community. Many are free of charge, or only cost a nominal fee. When you attend these events, you also have a chance to network – and you never know when networking will come in handy.
3. It keeps things real: Once you start writing, it can be easy to either get demotivated, or even lose perspective as to where your work is at in terms of quality. The great news is that there are dozens of people out there who would love to chat about the challenges of being a writer, and even share a few insights into their journey. The flow-on effect of meeting other writers is that it grounds you: you're not just some Twitter handle that pumps out ads for your book, or an anonymous eBook author struggling to make it; you're another writer in the great history of literature around the world. Your struggles aren't new, so why not share the burden with others?
Here in Australia, there are writing communities in every state, as well as the national Society of Authors. The joining fee for each community is nominal considering what you get in terms of services, support, and opportunities. I think connecting with your local writing community is a no-brainer, wherever you are in the world. As our friend Shia LeBouf would put it: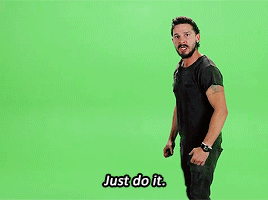 Related