Friday Focus: Amazon Keyword Changes
So a couple of weeks ago I made some changes to my keywords on Amazon based on some research I did into Amazon search optimisation. This post is an analysis of the results. Please note that this isn't entirely scientific, but I believe it's fairly accurate.
For the purposes of this piece, I'll focus on Amazon.co.uk. I hadn't had a lot of success there before my search changes. So, let's go!
What I changed: Originally, I only used single words as my keyword terms on Amazon. This was simply based on picking words from Amazon's KDP keyword suggestions. Then I listened to a podcast where another author described his success based on using keyword phrases. So, I changed from single words to phrases.
How I changed things: Here were some of my original phrases: Preteen, steampunk, mystery, young adult. I searched inside Amazon to see what autofill terms came up. So under "Steampunk" I noticed that "Steampunk fantasy" came up. With young adult, I found that "Free young adult books" came up. So… my new list went from:
Preteen/Steampunk/Mystery/Young adult
to
preteen novel/steampunk fantasy/free mystery/free young adult books
And these are the results: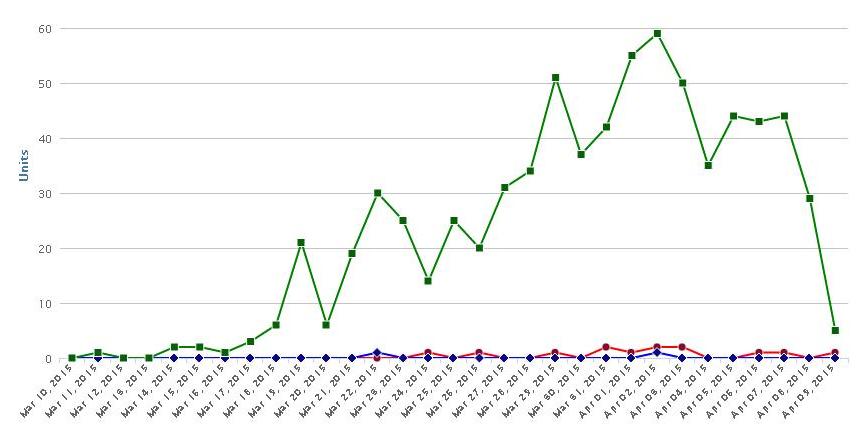 Excuse the resolution – I'm typing on a random tiny laptop in Berlin. So I made the changes on March 18. Prior to this, I was getting one or two free units of Mrs Milliard's Mech downloaded a day. After the changes, I've seen an average of 40 units a day moving. My ebook has been ranked around the 500 mark, even hitting 230 at one stage in free ebooks, where previously it was at 5,000. That's a massive uptake. I also saw the search rankings increase for "Steampunk detective" and other terms. Getting to 1 or 2 is crucial for people to investigate further, along with reviews and a good description.
So there you go. A couple of caveats: I launched my latest novella in the middle of this test, which may have skewed the data somewhat, but it's now been 3 weeks, so I'm happy with how things are tracking. My verdict? I think everyone should research search terms and try this approach. It's made a big difference to my results so far.
Related