The Clockwork Dungeon: A Review of Self-Publishing Marketing Techniques.
It's hard to believe it's been almost a full month since my latest novella (The Clockwork Dungeon) launched!
I've been self-publishing for almost three years now, and the release of The Clockwork Dungeon featured my most relaxed launch ever. Some of that's down to where I've settled with releasing my work – when I first started self-publishing, I would put a lot of work into promotions to get the word out. These days, I'm comfortable letting my work make its way through the internet naturally via social channels, with a few pushes along the way.
With my casual approach in mind, this post will give you a bit of insight into the promotional side of things for this novella. If you're self-publishing already, or considering self-publishing, I hope you find this useful – you can also check out some of my previous posts on lessons I've learnt in self-publishing.
So, to marketing. Here are the tools I've used so far to get the word out about The Clockwork Dungeon:
Amazon Pre-Order
Effectiveness: Disastrous (But usually great)
The pre-order system on Amazon is fantastic. It lets you set your book up early and start connecting with readers who are reading similar work. At the very least, you get awareness. I had a bunch of pre-orders for The Clockwork Dungeon in December. But as the deadline approached, I suffered a cluster of issues both with the manuscript and in life, resulting in the tough decision to pull the pre-order. I'm going to call that the hardest decision I've ever made in self-publishing. As a result of cancelling, I'm banned from using Amazon pre-order for a year, and I broke the trust of a bunch of people who were looking forward to some Inspector Ambrose fun. I still recommend using the Amazon system for pre-orders, but make sure there's as little risk of delay as possible.
Social Media Buzz
Effectiveness: Meh.
There's not much more to say. I think authors should have a social media presence, but you won't sell many books directly through these channels. Especially Twitter. Oh please, please, don't buy tweets from accounts which promise to boost 'exposure'; they're rarely worth it. I placed my tweets and links on Twitter and Facebook. Here's an idea of the click-through rate:
Facebook: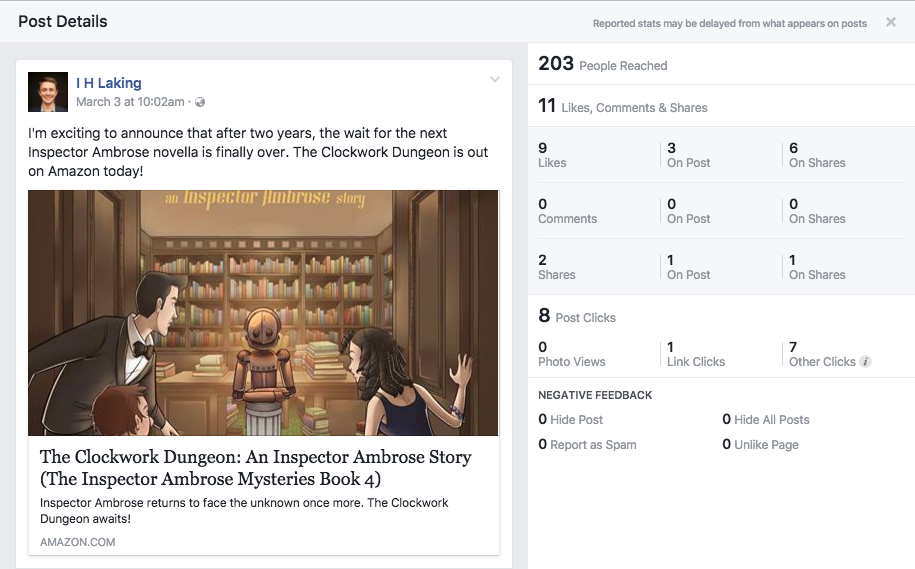 I have a fairly small Facebook page at the moment, with about 150 likes. This post still got good traction considering my base numbers, but you'll notice the small click-through. 7 people went through to the Amazon page. A 1% conversion rate isn't too bad, all things considered, which is about where this would end up.
Twitter:

Now here's where things get interesting. I have 20K followers on Twitter. My tweets tend to get some traction, but Tweets trying to promote my own work rarely get anywhere – and with good reason. Twitter is full of self-published authors hocking their work. It's exhausting and irritating to scroll through your feed and tweet after tweet that say something like "5* MAKES HARRY POTTER LOOK DULL" followed by another tweet from the same author that says "5* WATCH OUT JK ROWLING, THERE'S A NEW BESTSELLER IN TOWN! COULDN'T PUT IT DOWN" and so on.
Out of the 2.6K impressions I got on that tweet, 13 people clicked through. If one of them bought the book (humour me), that's a conversion rate of less than half a percent. The returns are tiny from Twitter; barely a blip. Same goes for Twitter 'ad' accounts – so beware, rookie self-publisher! Impressions and clicks do not equal sales. Only sales equal sales. Deep.
Free eBook Promo – Reddit
Effectiveness: High
The free ebook strategy has worked well for me over the years. While my books aren't free all the time, I do run semi-regular giveaways. When I do this, it's usually great for exposure and sales. That's for a bunch of reasons – first of all, people downloading my books for free helps build Amazon's algorithms around 'people also viewed' and 'people also bought'. It means my book gets seen while people are browsing the Amazon store, and then they're more likely to check things out.
I usually combine my giveaway with a post on Reddit. This is helpful, but sometimes doesn't work out if there are several other popular books up for free. I post on the /r/FreeeBooks sub, and it gets good clickthrough. I'd strongly advise against spamming reddit with links to your work, by the way. Redditors smell self-promotion from a mile away, and you have to respect the audience's intelligence. Stick with the places you're meant to give your work away.
My free promo went really well – here was the Amazon sales chart from the weekend: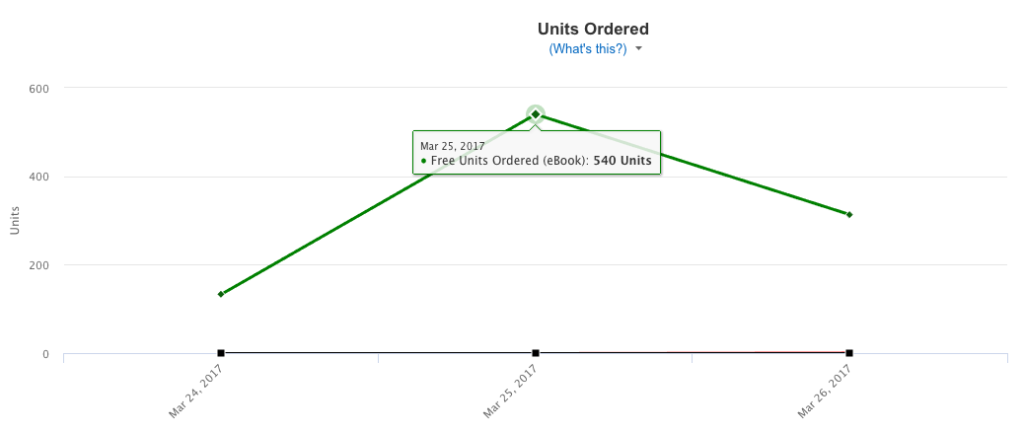 The charts on Amazon KDP are pretty average for share ability, but I hope this gives some insight – almost 1,000 ebooks were downloaded over the weekend, and The Clockwork Dungeon reaching the rank of #392 in free eBooks. On top of this, I made the entire Inspector Ambrose series free, which helped push uptake higher. As for long-term results, before the promo, The Clockwork Dungeon was hardly linked to other titles. But now there's been activity, visibility has improved: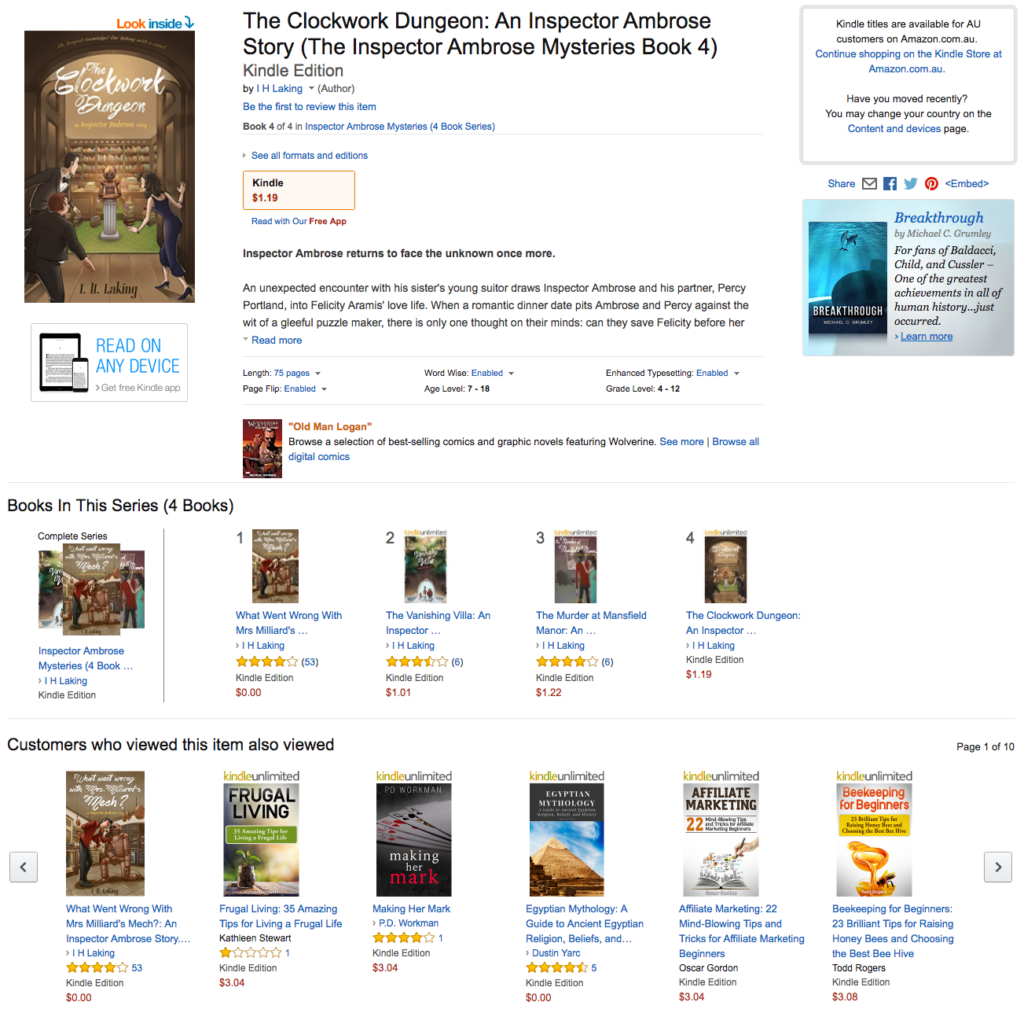 You can see the 'Customers who viewed this item also viewed' section has now got more links. This is due to traffic filing through. This is why free eBook promos, combined with a marketing channel or two, really help visibility. Reviews are the biggest factor outside of this.
The Verdict:
I'm happy with how things are ticking over for The Clockwork Dungeon. Thanks to the weekend buzz, it's currently the number 2 hottest new release in Children's Steampunk, and it's high on the list of broader genres as well.
Self-publishing is hard graft, through and through. You can't skimp on editing, content, or your cover. I've decided to relax whilst I focus on traditional publishing pathways for my novels, but in the meantime I'm enjoying putting new work out through my online channels. I hope you've got something out of this little reflection. Feel free to ask any questions you might have, and if you came here from Reddit – hi!
And since you take what you can get in self-publishing, here's a screenshot of The Clockwork Dungeon as one of the hottest new releases in Children's Steampunk. Yay!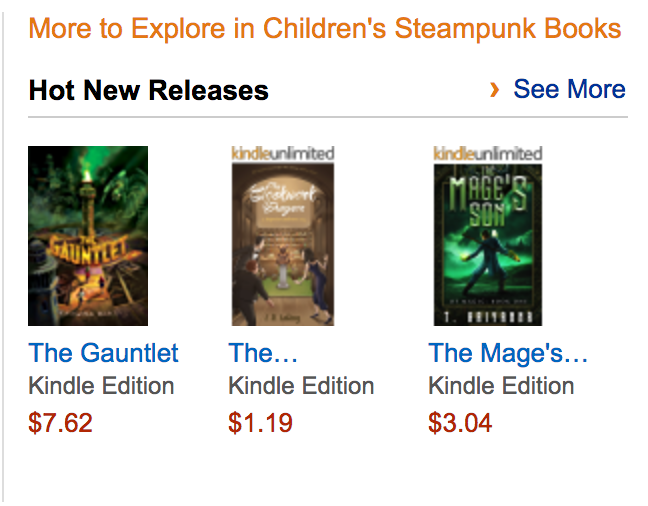 Related