Somerset Celebration of Literature – A Review
Last week I had the pleasure of attending the Somerset Celebration of Literature on the Gold Coast with Joel Martin and The Morning Bell to record a series of podcasts. Coming up from Melbourne, I only had a rudimentary understanding of the festival's size and content; it certainly blew my expectations away.
The Somerset Celebration of Literature is an event for young readers, and is everything that a literary festival should be: unpretentious, accessible, and determined to deepen the reading experience of everyone who attends. At a base level, I was impressed by the organisation of the event – dealing with changeable weather which varied between soaking wet and screaming hot was no easy task, and the festival team dealt with every circumstance with ease.
Content-wise, I enjoyed hearing from Yasmin Abdel-Magied, Shivaun Plozza, and Benjamin Law in between our podcast recording sessions. Yasmin and Benjamin both articulated their thoughts on equality and harmony well, challenging us to continue breaking down the barriers and misconceptions in our societies that continue to marginalise people today. Shivaun's story was inspirational and honest; a walk through her history as a writer that pulled no punches. Shivaun's novel Frankie is rightly receiving outstanding reviews – and to hear the journey behind the story was inspiring.
Beyond listening to some outstanding authors, I was also lucky enough to interview many of them with Joel for The Morning Bell. The podcasts will become available over the coming weeks, and I'll post links here once they're online. In no particular order, we chatted with Fleur Ferris, Karen Foxlee, Alison Goodman, Mick Elliot, Rachael Craw, Emily Gale, Mark Smith, and Andrea Lewis, the festival Event Manager.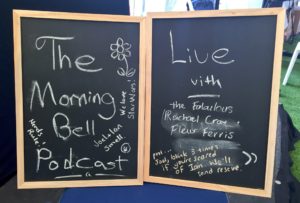 A couple of key things I'll take away from my podcast conversations are:
– Authors are some of the nicest people out there. Seriously, you should have seen Mick Elliot signing books for 20 minutes after we finished chatting, or heard Shivaun Plozza opening up about her mistakes to a room full of young people. I had so many positive interactions, and it reminded me that writing is about the human condition, and it invites us as readers to learn empathy and to push the boundaries of our world.
– There is no 'correct' way to write or get published. Every author we spoke to had a different story about how they came to writing. Some had known they wanted to write since a young age; others had come to writing later after seeing the opportunity to fill a gap in the literary market. Every person wrote in a different place, on different equipment; some listened to music, others wrote on cheap laptops. And each person took a different approach to story structure and their process. This should encourage you if you're worried about doing something 'wrong' in your writing process – the biggest thing we should all do as writers is stay humble and be true to ourselves. Publishing is all about the getting the right manuscript on the right desk at the right moment. Writing is about being faithful to the stories you have to tell.
– We should all encourage young people to read more, and as a society we need to invest more in writers. Because if we're serious about creating a more inclusive world, we owe it our young people to set them up with empathy. We don't need another Kardashian TV series or Transformers movie; we need more stories from authors like those who attended Somerset this year. To achieve this we need more funding for those who have stories to tell, and for more people to get out there and buy a book for a child or young person they know.
The Somerset Celebration of Literature has got me fired up about connecting young people with great stories, and has left me encouraged that writers can achieve their dreams if they maintain determination and humility. So keep writing folks, and keep connecting young people with the powerful stories Australian authors have to tell.
A massive thanks to all the Somerset team for their hospitality and organisation. I'm looking forward to next year already!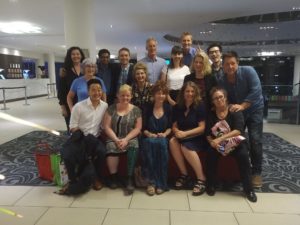 Related